Lent Resources 2021
Join us in preparing your heart for our Lord's Passion and Resurrection!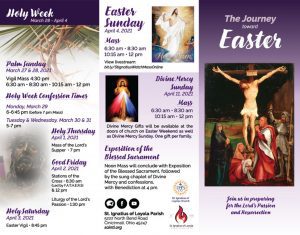 Ash Wednesday

 

•
February 17
7 am | 9:15 am | 7 pm
Lent begins on February 17th. Ash Wednesday is a day of fasting and abstinence from meat. According to the United States Conference of Catholic Bishops, the norms of fasting are obligatory from age 18 until age 59. Fasting means a person is permitted to eat one full meal. The Fridays of Lent are also days of abstinence from meat.
This year, due to the pandemic, we will also experience change on Ash Wednesday. Ashes will be imposed differently. Due to the pandemic, the Congregation for Divine Worship has asked that ashes not be placed on the forehead but rather be sprinkled upon the top of the head. The priest will say the words only once and the minister(s) will impose ashes.
Click on the graphic to view an interactive PDF.
Lenten Opportunties



Daily Lenten Challenge
Sign up to receive a daily email with a challenge to help turn your focus to what is important this Lenten Season. Begins on March 1 and ends on March 25.
CLICK HERE if you are already a member of Flocknote.

Not on Flocknote?

Click HERE sign up! 
Engage 2021 Lent Reflections

Connect digitally through Flocknote this Lent! Receive Lenten reflections and resources from
Bishop Barron right to
your inbox!

Click HERE to Sign Up.
Not on Flocknote?

Click HERE sign up! 


Virtual Women's Conference

Cincinnati
Men's Conference

Opening the Year of the Family
Solemnity of St. Joseph
Husband of Mary
Friday, March 19  • 7 pm Mass
Recognition of those celebrating 25 years of Marriage
Almsgiving Opportunities; Called to Serve
Pregnancy Center West Baby Bottle Collection
• February 27 & 28
Project 5000 • March 13 & 14

Good Friday Envelope Collection • April 2 
Click Here for more information about these wonderful opportunities!
Confession Times
Preparing for Confession?
CLICK HERE
for resources.
Stations of the Cross Fridays during Lent
3 pm in church
Link COMING SOON! 
(Check back here for a link so you join us virtually! ) 
Magnificat Companion Booklet
Available at church doors beginning February 13
Lenten Mission
The Law and the Interior Life: Meditations on Matthew 5:21-48
March 23, 24, & 25 • 7 pm
With Fr. Fernandes in the Church