Young Adult Ministry
2021-2022 Year of Beauty:
Gazing on Beauty Who Gazes on Us

Click on image to expand.
Plan to join us each month for deep reflections and lively conversations, with light food, drinks and fellowship to follow! As always, you are invited to our weekly Adoration and Confessions on Thursdays from 5-7pm, which conveniently land right before our YA events.
We will have a second gathering each month to encounter the beauty we reflected on. See details below for each gathering.
May 26: Madalyn Hardig on the Beautiful Shepherd
With the news that our pastor, now Bishop-elect Fernandes, has been named the next Bishop of Columbus, OH, unfortunately he will not be able to give this presentation as planned.
However, thankfully our Director of Catechesis of the Good Shepherd, Madalyn Hardig has agreed to share the rich insights she has received in her formation and her experience as a catechist in the Atrium!
We'll gather at 7pm in Loyola Hall.
June 4: Gift of Self – Service Workshop
After reflecting on how God created as a gift to ourselves and simultaneously meant to be given to others, you'll have the opportunity to do that in small ways at St. Ignatius from 3-5pm on Saturday June 4.
Enter through the parish office on the right side of the church. We'll head to the Public House for dinner, for anyone who is interested!
June 23: Fr. Christian on Beauty in the Liturgy and Bonfire
We'll gather at 7pm in Loyola Hall with a bonfire to follow!
July 14: Holy Hour and Bonfire
Come to our regularly scheduled Eucharistic Adoration and confessions from 6-7pm, followed by (another) bonfire!
Check back for plans for the Fall!
Purpose
St. Ignatius of Loyola's Young Adult ministry is a community of Catholic young adults (ages 18-35), whether single, married or young parents, growing as disciples of Jesus Christ through the gift of His Church. Check out our upcoming and past events!
Contact
Sign up

HERE

to receive our parish FlockNotes (two emails each week) and stay updated on great things happening parish-wide.
Sign up

HERE

to receive occasional emails about specific Young Adult ministry related events.
Brad Macke, Young Adult Core Team leader: bmacke@sainti.org; 513-661-6565 ext. 2743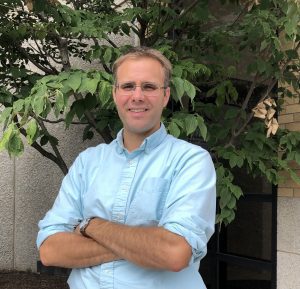 Young Adult Core Team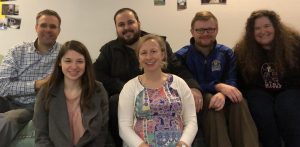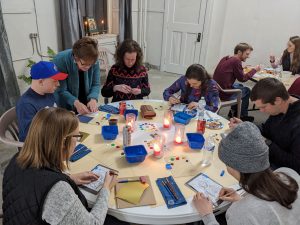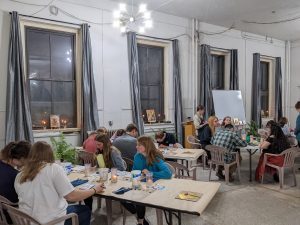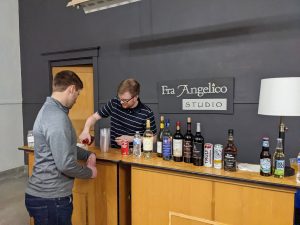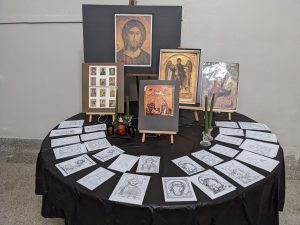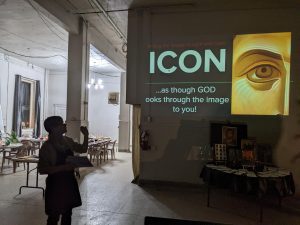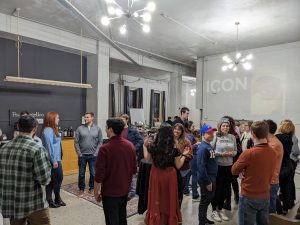 ---
PAST EVENTS
February 12: Icon Workshop & Wine
February 24: Joshua Wellen on Literature and Poetry
March 5: Poetry Reading with Bourbon and Cigars
March 24: Dr. Joe Molitor on Friendship and Suffering
April 2 : Swing Dancing Night
April 28: Kate Iadipaolo on the Human Person and Vocation