Young Adult Ministry
2022-2023
Mosaic: A Year on the Human Person

Click on image to expand.
Our theme this year is "What is the Human Person?" Each event will be followed by a social with light food and drinks. This year our YA ministry will be hosting these Thursday night events for our whole parish. Consider coming to Adoration and Confessions beforehand from 5-7pm.
Additionally, we'll continue to have other monthly outings for young adults only. See flyer above and details below!
Sept. 29: Emily Macke on "Who Am I?: St. John Paul II's Theology of the Body"

Emily Macke, MTS
will kick things off on
Thursday, September 29 at 7pm in Loyola Hall
to lay the foundation for our year with her talk "
Who Am I?: St. John Paul II's Theology of the Body
." Emily has been speaking on John Paul II's Wednesday catechesis (TOB) for over a decade, from Sacred Heart Radio, to speaking on three continents, to co-founding Ruah Woods' high school Kenosis ministry, to writing the
Called to Be More
high school TOB curriculum, to speaking at parishes and on retreats. She currently teaches the Theology of the Body course at our Archdiocesan seminary, the Athenaeum. Emily received her Masters degree from the Pontifical John Paul II Institute for Studies in Marriage and Family. She is married to Brad Macke (our Director of Adult Faith Formation and Outreach), and they have four daughters.
We will begin with the Saturday 9:15am Mass at St. Ignatius. After Mass, we will carpool down to the Red River Gorge for hiking and camping! We'll be staying at the John Swift Lost Silvermine primitive campground near the Natural Bridge Park. We booked a private group camp site and portable bathrooms will be available (no showers). We'll hike Saturday afternoon right away then settle into camp for dinner and fellowship around the campfire. On Sunday morning Fr. Christian will say Mass for us outdoors, we'll do a shorter hike, then drive home late Sunday afternoon. Cost is $30 and must be paid online using the registration link above. More details to follow after registration.
October 27: Vickie Geckle & Valerie Bender on "Theology of the Body Through the Eyes of Children"


Mrs. Geckle, MAT and Mrs. Bender, MEd have taught the Theology of the Body (TOB) classes in our school, inviting some of our youngest members to discover their identity, calling and destiny in God. Join us at 7pm in Loyola Hall to hear some rich insights from Vickie and Valerie's experience in working with children!
November 10: Brad Macke on "Marriage as an Icon of God's Love"



Join us at 7pm in Loyola Hall for a reflection from Brad Macke, MTS on how marriage contains the gift and task of imaging both the Trinity and Christ's love for the Church. 
November 12: Potluck Dinner and Movie Night


Come to our potluck dinner starting at 6pm in Loyola Hall and see what you can bring to share! Around 7:30pm we'll move into "movie night" followed by conversation on the rich themes of the movie. Stay tuned for the movie pick which is TBD!

December 7: Advent Vespers at Seminary


Meet us on Wednesday, Dec. 7 at 7:30pm at the Athenaeum for Advent Vespers with our seminarians!
December 15: Dr. Sodergren on "Understanding Sexual Identity"


Join us at 7pm in Loyola Hall for this valuable presentation on a pressing question for Catholics today! More details and bio to come.
Purpose
St. Ignatius of Loyola's Young Adult ministry is a community of Catholic young adults (ages 18-35), whether single, married or young parents, growing as disciples of Jesus Christ through the gift of His Church. Check out our upcoming and past events!
Contact
Sign up

HERE

to receive our parish FlockNotes (two emails each week) and stay updated on great things happening parish-wide.
Sign up

HERE

to receive occasional emails about specific Young Adult ministry related events.
Brad Macke, Young Adult Core Team leader: bmacke@sainti.org; 513-661-6565 ext. 2743 
Young Adult Core Team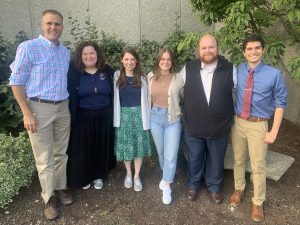 Event Pictures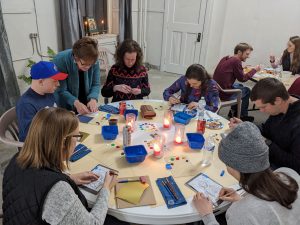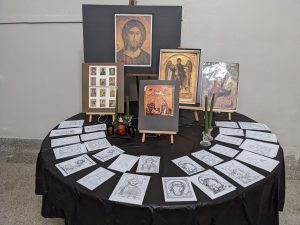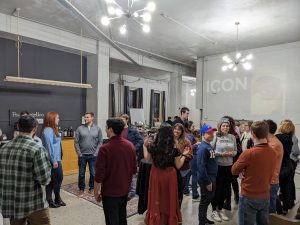 ---
PAST EVENTS
Saturday, Sept. 17 – Kayaking at Green Acres
February 12: Icon Workshop & Wine
February 24: Joshua Wellen on Literature and Poetry
March 5: Poetry Reading with Bourbon and Cigars
March 24: Dr. Joe Molitor on Friendship and Suffering
April 2 : Swing Dancing Night
April 28: Kate Iadipaolo on the Human Person and Vocation
May 26: Madalyn Hardig on the Beautiful Shepherd
June 4: Gift of Self – Service Workshop
June 23: Fr. Christian on Beauty in the Liturgy and Bonfire

July 28: Holy Hour and Bonfire