Mom's Ministry
Faith

Sharing

 Group – How do YOU make decisions? 
Our 
faith

 

sharing

 group is a supportive group of moms in our parish. We read a book together and most importantly help each other along this journey of motherhood and our 

faith

. We will be reading Pray, Decide and Don't Worry: 5 Steps to Discerning God's Will by Bobby & Jackie Angel with Fr. Mike Schmitz. The bookequips Catholics with a clear five-step discernment process for navigating what St. Ignatius of Loyola calls, "the movements of the soul"—the deeper realities that clue Catholics in to what God is doing deep within their hearts and where He is leading them.

Pick up your book at the Mom's Ministry Kick Off party on Sept. 5! First book study session is Sept. 19.
We meet every first and third Monday at 7pm, most of them at the Ignatius Center across the street from St. Ignatius.

Remote option available, times & dates – TBD.
Cost is $10 for the book. (the parish covers the rest of the cost of the book) Deadline to order the book is September 6. Use the online payment link or drop off payment to the church office, Attn: Elaine Kroger. 
What to expect at meetings:
– Focus on two most important things – moms and our 

faith

.  
– A group of moms who are open-minded, supportive, and understanding who want to connect with other moms in our parish. 
– Sometimes we discuss the book, sometimes we just talk about the joys and challenges of motherhood!
–  A comfortable space for moms to get together to discuss and ask questions about their life and explore their 

faith

 on a deeper level.
– Laughter. Maybe some tears. And always support.
https://www.wesharegiving.org/App/Form/abc373eb-aeb0-42ed-823b-57386a18db83
Isaiah 40:31: But those who hope in the LORD will renew their strength.  They will soar on wings like eagles; they will run and not grow weary, they will walk and not be faint.
~ St. Gianna, patron saint of mothers and unborn children: Pray for us! ~
Who We Are ?
We are two moms, Erin Hazelbaker and Liz Schurrer, who have six kids between us, four of which attend St. Ignatius. We are both originally from Dayton, graduating a year apart from Chaminade-Julienne High School- although we really didn't know each other back then! Erin works as a physical therapist but has shifted her focus over the past year to helping women to have a beautiful Christian childbirth experience. She loves to greet at 10:15 mass with her family (when she is able to get everyone out the door early enough!). Liz works in philanthropy for a national congenital heart defect advocacy organization. One of her goals is to have every woman in the parish feel supported and find a strong connection to our big parish.
Erin Hazelbaker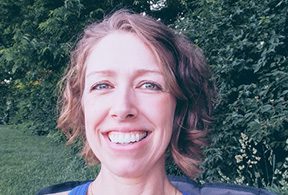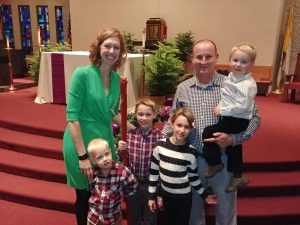 The first thing I noticed about Erin was her warm, welcoming smile. After getting to know her a bit more at a recent Pulse of the Parish meeting, I was inspired by her sincerity and the way she speaks her faith from the heart. She is also a woman of action – taking matters into her own hands with love and compassion. As we've been working together, I've heard her say time and time again, "my mission is to meet moms where they are." I completely agree and am so excited to work with her and others in developing a ministry for moms who are immersed in the most rewarding yet challenging vocation in motherhood and who need to be supported and loved.
Liz Schurrer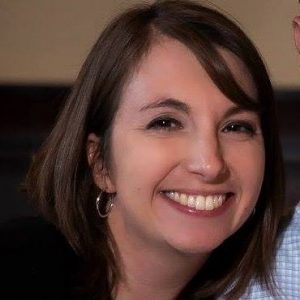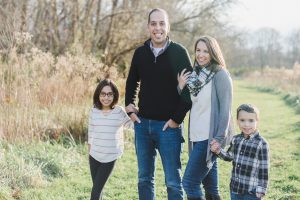 Liz has such a giving heart. You will notice this from the moment you meet her.  Once we were able to reconnect (high school was a LONG time ago!), you could almost FEEL her passion for bringing our parish together. She wants to meet and help other moms, but especially, she is hopeful that no other mom will have to go through what she felt was a very isolating time in her own life. Liz's youngest was born with a congenital heart defect and underwent 2 open heart surgeries in his very young life. This meant Liz was not able to even bring her sweet baby out of the house for months on end other than doctor appointments. During this period of isolation, Liz reached out hoping to be connected but didn't find a group that was able to meet her needs. She hopes to BE that connection for those who need it and to ensure that we are able to meet the needs of moms at a parish level.