Adult Faith Formation
Tour of Catholicism

 
Questions about Catholicism?
Join us once a month for "Tour of Catholicism: Mystagogy"! This is a follow up year from RCIA where we go deeper and answer questions for our neophytes (new Catholics) as they begin their new life as a Catholic. If you have wanted a "refresher course," or an adult introduction to the faith, or have just become a more curious Catholic, then this is for you.
Mosaic: Real Presence in Us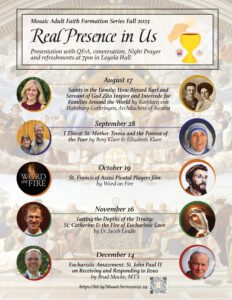 Come hear fascinating presentations on how saints were transformed by Jesus in the Eucharist.  Events will be once a month on Thursdays at 7pm in Loyola Hall, with refreshments, Q&A, and Night Prayer!
Tolle et Lege: Book Conversations

Tolle et Lege: Book Conversations will rotate between books explicitly about Catholicism, Spiritual writing, and works of literature. The literature will be works that are not necessarily explicitly "Christian" but do implicitly touch on deeply human and Christian themes.