Respect Life
Our Mission
The goal of the Respect Life Committee is to restore respect for the rights of all humans, born and unborn; to stand on behalf of the most vulnerable and defenseless members of society, giving attention to the issues of justice and commitment to a consistent ethic of life; to model and encourage an attitude of respect for all human life.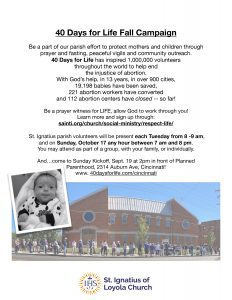 St. Ignatius parish volunteers will be present each

Tuesday from 8 -9 am (Click to Sign Up)

and on Sunday, October 17 (Click to Sign Up) any hour between 7 am and 8 pm. You may attend as part of a group, with your family, or individually. And…come to Sunday Kickoff, Sept. 19 at 2pm in front of Planned Parenthood, 2314 Auburn Ave, Cincinnati! www. 40daysforlife.com/cincinnati
What We Do
We raise awareness and offer information on respect life issues and provide financial support to local centers that serve clients who are experiencing crisis pregnancies and are considering abortions.
We also coordinate Project 5000, conducted for Mercy Franciscan at St. John (social service center) to provide direct relief for Cincinnati's poor. Families or individuals provide food items for shopping bags distributed on Palm Sunday; filled bags are collected on Holy Thursday.
The Respect Life Group meets 4-6 times per year.
We Invite You to Join Us
Respect Life Sunday Mass (first weekend in October)
Anniversary of Roe v. Wade (remembrance Masses held on weekend closest to Jan. 22
Respect Life Baby Shower (winter/spring – benefits local centers)
Baby Bottle Collection (benefits Pregnancy Center West)
Cemetery for the Innocent (remembers all babies who have died due to abortion
Project 5000 (Palm Sunday/Holy Thursday); Baby Shower (St. Francis Seraph Ministries).