Scarf It Up Ministry
The

Scarf

 It 

Up

group has over 60 ladies on the roster who hand crafts over 40 comfort items for over 20 charities in our communities.
The group makes:
• baby to adult hats
• several types and styles of blankets
• quilts for all ages
• catheter covers
• Burden Bears
• Prayer shawls
• Pressure and neck pillows
• Seatbelt covers
• Chemo hats
• Burp cloths
• Aprons
• Comfort bags
• Bibs
• Pillowcases
• Anti-ouch pouches
• Lap covers
• Rail bags
• many more items and of course

scarves!
The items made benefit Tri Health (Good Sam Hospital, Bethesda North Hospital and Hospice of Cincinnati),  Crayons to Computers, Covenant Village, Drake Hospital, Hillebrand NH, Old St Mary's, Project Linus, St. Ignatius, St Vincent De Paul, Veterans, Bayley Place, University of Cincinnati Medical Center and more.
Our materials are supplied by the St. Ignatius Outreach Fund and random donations.
If someone wanted to purchase supplies for you, how would they go about that? They can purchase cotton fabric, Blizzard Fleece (solid colors and prints), flannel fabrics, fiberfill, 3/4″ sew-on velcro and yarn at Joann Fabrics, Hobby Lobby, Michael's, Walmart, and Amazon.
We meet on the
second Monday

of every month at 10 am to noon in Ignatius Center!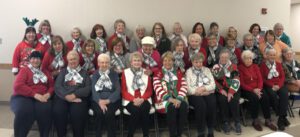 Contact Susan at 513.661.9202 with any questions or if you would like to make a donations! Donations can also be dropped off the parish office.