Lenten Almsgiving Opportunities; Called to Serve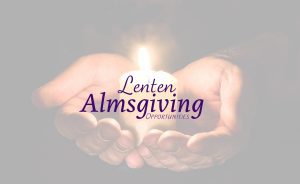 As we begin this Lenten journey of 2023, we invite you to consider several Almsgiving opportunities throughout the Season of Lent! During the Season of Lent, we are called to observe almsgiving. Have you considered how you plan to practice almsgiving? How will you serve others as Jesus calls us to "Love one another." We ask that you prayerfully consider supporting one of the almsgiving opportunities listed below.
A collection will be taken on Ash Wednesday to aid the church in Central and Eastern Europe and Africa.
February 25 & 26 • All items should be brought to the doors of church on the first weekend of Lent.  A complete list of items can be found through the Cart Sunday link above.
Good Friday Envelope Collection

Click on the graphic to get more details about this collection. 

Good Friday, April 7 •
Envelope collection for Holy Land Shrines
Find more information about the Holy Land Shrines collection – www.eohsjnorthcentral.org/GoodFriday
Pregnancy Center West Baby Bottle Collection

Collection of funds from sacrificial giving helping PCW for the cause for life. More details can be found inside the baby bottle.  

March 4 & 5 • Baby Bottles will be available for pick up in baskets at the doors of Church  (Students in St. Ignatius School will be given bottles in school)
March 18 & 19 • Please return the Baby Bottles to the baskets at the main door of church.
If you prefer to donate online visit SupportPCW.org and click on the Donate button. Enter "St. Ignatius Baby Bottle Campaign" in the Comment field when you make your donation. You can also mail a check to Pregnancy Center West at 2859 Boudinot Ave, Ste 320, Cincinnati, OH 45238; please write "St. Ignatius Baby Bottle Campaign" in the Memo field. Thank you in advance for your generosity! If you have any questions regarding this campaign, please call us at 513-244-5700.
Find more information about this campaign in the provided bottle and at https://pc-west.org/.
Project 5000

Collection of grocery and toiletry items for the St. Francis Seraph Ministries, who assist the less fortunate in Cincinnati.  A list of suggested items will be on the bag. The program is based on the Gospel Story in which Jesus took five loaves of bread and two fish offered by a small boy, and multiplied them to feel 5,000 people.  Project 5000 allows community members to give small contributions of food/personal care items and see them multiplied into greater usefulness.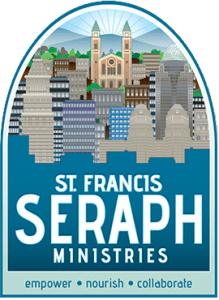 Palm Sunday, April 2 • Project 5000 bags given out (materials donated to St. Francis Seraph Ministries)
Holy Thursday, April 6 • Project 5000 bags can be returned Masses
Find more information about St. Francis Seraph Ministries at  https://www.sfsministries.org/