Advent
Advent Calendar for Children


Click on graphic to enlarge
Keep scrolling down
the page for more information!
Advent & Christmas Invite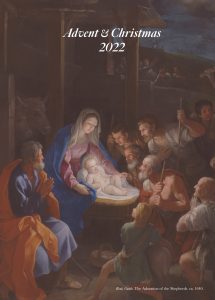 Click on the graphic to enlarge
Please return this card by December 20 with your donation. More cards can be found at the doors of church or in the parish office.
A complete list of remembrances will be posted in January on the St. Ignatius website and on the church bulletin boards.
---
More
Advent
Opportunities
Home Blessings for the
Season of

A

dvent
St. Ignatius Giving Tree
This service project benefits various underprivileged children, seniors, and pregnancy centers in our area.
Ornament(s) can be picked up beginning November 25 in the back of Church.
Mater Filius
Mater Filius Home provides housing for expectant women who have no place to stay and need support to stabilize themselves as they learn to be nurturing mothers. KofC will be holding a collection December 3 & 4 after Masses.
Magnificat Advent
Companion Booklet
November 19/20
 At the doors of church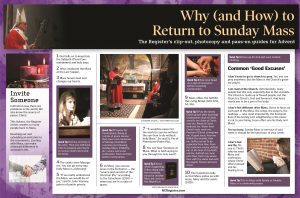 Rorate Mass 
Saturday
December 10


                 6:30am 

                
(Bill's) Doughnut breakfast/social to follow at Loyola Hall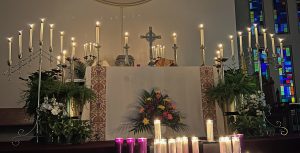 The Rorate Mass is a particular votive Mass in honor of the Blessed Virgin Mary celebrated during Advent. The atmosphere of this Mass is different: it is meant to specifically express the expectant and prayerful waiting of Advent in a visual and experiential way. It is celebrated before first light and is entirely candle-lit (accounting for our early start time). The Mass gets its name from its entrance antiphon, which begins with the words "Rorate Caeli", meaning "drop down, you heavens." The antiphon in full is taken from the book of the prophet Isaiah: "Drop down, you heavens, from above, and let the clouds rain down the just one." This quote encapsulates the prophetic expectation of the Messiah, fulfilled at the coming of Christ through Mary.
This is an opportunity to enter the Mass in (literally) a different light and a tradition that can help give shape to Advent, which, even within the Church, has gotten somewhat lost in the rush to celebrate Christmas.
In short, there's no better use of your Saturday morning—please join us for this Advent Mass!
December 4
Advanced online registration required
For ages 10 and under

Mike Davis Concert 


Click on photo from more info.
Featuring: Popular Singer and Catholic Evangelist Mike Davis. Prepare for the coming of Christ this Advent by joining Mike Davis for a powerful night of prayer, music and scripture, as we bring our storms of life to meet the one who calms our storms – Jesus Christ!
 

It is a night of power and prayer that can change your life! The event is free to the public.

 


(A Freewill Donation Is Always Appreciated)