St. Leo's
About St. Leo's Parish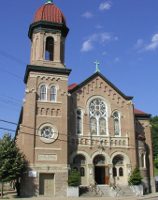 Welcome to everyone and everyone is welcome at St. Leo's
St. Leo the Great Parish is where foreign mission meets home mission. Founded in 1886, St. Leo Church was founded by German Catholic immigrants. Now it is home to Burundian, Congolese and Guatemalan immigrants. A vibrant, diverse, urban Catholic parish community living the spiritual and corporal works of mercy, St. Leo's serves a diverse group of parishioners that includes recent immigrants and refugees. St. Leo's offers you the unique opportunity to be a part of a true, international community of believers. 100 years ago the current church was built at the corner of 2573 St. Leo Place and Baltimore Avenue. 
Mission Statement
We are a welcoming Catholic Community, grounded in Eucharistic prayer, celebrating our diversity and sharing God`s love through ministries of serving and being present in our urban neighborhoods, while focusing on the spiritual and corporal works of mercy.  
Spiritual Works of Mercy
Teaching the Uneducated:
Children's Liturgy of the Word
RCIA
English as a Second Language Classes
Tutoring, one-on-one weekly sessions for grade school and high schools students.
Hosting Urban Plunge programs. 
Internships and collaborating with local colleges and universities in urban ministry projects.  (Nursing, Farming, Pastoral Counseling)
Comforting the Afflicted:
Advocating for the marginalized in our community and working together with area leaders through involvement with the Fairmount Provider's Group.
Weekly AA meetings
Prison Ministry
Praying for the Living and the Dead:
Prayer Wall Ministry, a place where all, regardless of age, race or creed, are invited to sing God's praises, give Him thanks, and/or call upon His presence for help in times of need.
Weekly Adoration
Weekly Liturgies
Bereavement Ministry
Book of Prayer Intentions for the Living and the Dead
Participating with other local churches in the "annual prayer caravan" through our neighborhoods on the National Day of Prayer. 
Corporal Works of Mercy 
Providing Food for the Hungry, and Drink to the Thirsty:
St. Leo Food Pantry
Christmas Give-A-Way for the neighborhood.
Community Garden, in cooperation with the Civic Garden Center, allowing participants to grow produce for their own use and that of the St. Leo Food Pantry
Welcoming Strangers:
Doorbell and phone ministry, serving neighborhood people seeking support and a listening ear.
Providing a spiritual home and pastoral care for Burundi Refugees, who were brought to the United States by Catholic Charities at the direction of the U.S. Bishops.  These refugees have spent most of their lives in camps in Tanzania and the Congo that provided little to no health care, education or pastoral services. Burundi men's and women's support groups. Youth group for Burundi teens.
Providing a spiritual home and pastoral care for Hispanic Immigrants.  Offering catechesis, sacramental preparation, and prayer and music groups. 
Clothing the Naked:
Christmas toy and clothing sale.
Clothing Drives 
Comforting the Sick:
St. Leo's hosts a Parish Nurse, in collaboration with Tri-Health Hospitals, providing healthcare services to those in need in our neighborhood.
Visiting Prisoners:
Transforming Jail Ministries leads Sunday prayer every third month at the River City Correctional Center on Colerain Avenue. 
The Food Pantry
St. Leo's operates a food pantry that serves over 900 clients a month.  The pantry is open to clients on Mondays, Wednesdays, and Fridays from 1:00pm-3:30pm. Volunteers are needed to work in the pantry from 12:00-4:00pm, but the time most needed for volunteers is 12:30-2:30pm. Volunteers are also needed to pick up food. For more information, call Geri/Paul Tengler  at 741-4758.
Donate Food Items Anytime!
Donate food items such as peanut butter, canned vegetables, and canned meats at the parish office. Canned food items (no crackers, cereal, or dairy items, please)  can be dropped off in the parish office anytime!
Participate in the Hunger Walk
The Hunger Walk takes place each year on Memorial Day weekend. Funds raised at the walk helps to provide for St. Leo's needs throughout the year. Find more infomation about the Hunger Walk by clicking here.
Cart Sunday
Cart Sunday occurs on the First Sunday of Lent and it supplies the pantry with toiletry items.  Clients can not use their food stamps to purchase soap, shampoo, toothpaste, toilet paper, and etc.
Christmas In July
Christmas in July occurs the weekend closest to July 25.  Canned goods and toiletry items are collected.  Volunteers are needed to drive the items down to St. Leo's.  This is a service opportunity for Confirmation students.  Call the Parish Office @66l-6565 to sign up.
Donations through School and PSR
In November, new and gently used toys are collected from both the school and PSR -– Call the Parish Office for the day at 513.661.6565, option 5.