RCIA Catechumen – Heather Lawson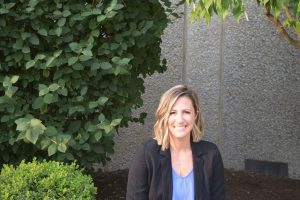 My name is Heather Lawson, a Catechumen. I am married with 2 kids. I have a Great Dane and 7 chickens. I love decorating, hanging out with my friends and family, and trying new restaurants. I love to travel-going to the beach and going to our lake house. I enjoy working out and watching my kids play sports. I enjoy DIY projects also. I grew up in Cincinnati (Mt. Airy, North College Hill) until I was 13. I moved to Southeastern Indiana with my mom, stepdad, and younger brother. I graduated from South Dearborn High School in 2004. I work from home as a Virtual Assistant. I used to be a dental assistant for 8 years but after having my second child, I had a great opportunity to work from home and have been for the past 4 years. I am looking forward to celebrating my 11-year wedding anniversary out of quarantine. We had planned a trip to Jamaica but have to reschedule.
I never grew up in a religious household. My husband and his family grew up catholic and now we are raising our children catholic. I absolutely love this church and community. I am looking forward to being apart of this faith with my family and growing closer to God. My thoughts on undertaking this journey are understanding the history of it all. I would like my journey to be a journey of gratitude. Helping lead the way of life without fear and give me strength in times of weakness.