Come Celebrate Mass
Returning to Mass Video
Mass Schedule
Week of June 1-7
Monday, June 1
(Private Mass)
7 pm
Tuesday – Friday, June 2-5
7 am
Saturday, June 6
6 am (livestream only)
4:30 pm
Sunday, June 7
6:30 am
8:30 am (with music)
12 pm
Week of June 8 – 14
Monday, June 8


7 pm


Tuesday – Friday, June 9-12


7 am
Saturday, June 6  – 

No Public

Masses 
1st Communion Masses 
Livestream only
11 am
1 pm
4:30 pm
Sunday, June 14 – Only Public Mass
10:15 am in the Gym
1st Communion Masses 
Livestream only
12 pm
2 pm
4 pm
Please be attentive to bulletin, website & flocknote for updates to the weekly Mass Schedule.
Mass Registration
Those who decide to attend Mass may do so only by registering with the link(s) below.
Mass Sign Up Links

  
Need Help signing up? Watch the tutorial below! 
• Upon successful sign up you will receive a confirmation email
• Just prior to Mass you will receive a second email with specific directives for participation
• Those whose schedules allow are encouraged to sign up for a weekday Mass
The weekend of June 13th & 14th is Corpus Christi/Solemnity of the Body and Blood of the Lord weekend.  This is a very special weekend as the 2nd graders of our parish will be receiving their First Communion.  In order to accommodate all of these families, we will ONLY have ONE public weekend Mass available.  It will be at 10:15 am in the GYM.  We will have six private First Communion Masses. Use the blue button to sign up!
Dispensation
Archbishop Schnurr has dispensed Catholics in the Archdiocese of Cincinnati from the obligation of attending Sunday Mass for the foreseeable future. Thus, those who wish to participate in Mass and receive Holy Communion may do so by attending a Mass any day of the week.
Protocols for Mass
Masks will be required to be worn in church
A bandana is adequate as a face mask.
• Attend only by registering through the Sign Up Genius
• Must observe social distancing
• Mass seating will be assigned through Mass sign up
• Remain in your assigned pew for the entirety
of the service
• Omission of envelope collection, holding of hands during Lord's Prayer and the Sign of Peace
• Holy Communion in the species of the Host will be brought to you in the pew
• At the end of Mass you will be dismissed at which time you should exit church using the same door through which you entered
Come Celebrate Mass Infographic
Click on graphic below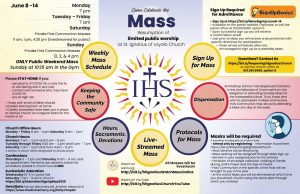 Keeping the Community Safe
Please STAY HOME if you have :
– symptoms of COVID-19, a cold, the flu or are feeling sick in any way
– contact with someone who may have COVID-19
– are at high risk – those over 60; those with problems such as diabetes, asthma, COPD, high blood pressure, or obesity.
Hours, Sacraments, Devotions
Church Office Hours

 
Monday – Friday
8 am – 4 pm,
Saturday
9 am – 1 pm
Church Hours
Mondays
7 am – 2 pm
5 pm – 8 pm
Tuesday through Friday
6:30 am – 2 pm
5 pm – 7 pm
Saturday
7 am – 2 pm
4 pm – 6 pm
A section of church will be designated for private prayer
Confessions 
Thursdays 5 – 7 pm,
Saturday 9 am – 11 am
and by appointment. Penitents are asked to follow the procedure posted in church found HERE. 
(click)
Eucharistic Adoration
10-3, Loyola Hall on Wednesdays

7 am – 9 am in Church on Saturdays