RCIA Participants 2022-23
Jacky Sonkoue-Lonkeng
RCIA Candidate

I was born in Yaounde, Cameroon. I grew up in a little town, Mbalmayo where I attended school. I received a bachelor's degree in journalism, then did higher studies and taught the English and French Languages in High school to adolescents with difficult backgrounds. I then moved to the USA. For the past two years, I have been working towards an associate degree in nursing. I was baptized a Protestant but have had several experiences with Mother Church. From sojourning at a nun's convent to devotion to the Divine Mercy Eucharist movement. Saint Ignatius is close to my current home. We feel welcome and at home here. Although I have spent over a decade exposed to the Catholic tradition, I still haven't made the ultimate step of receiving the Holy Eucharist. It seemed my relationship with the Lord did not miss any element. Nevertheless, I have felt the call to turn to Him in whole! I need to surrender my entire self to Him, and this can only be possible by the official institution of the Holy Eucharist. His time in my frail existence has come. Union with The Holy Lamb, is the ultimate gift I seek to receive.
Matthew Martin
RCIA Catechumen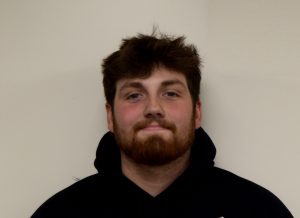 My name is Matthew Martin, a catechumen going through RCIA. I was born and raised in Cincinnati, around Bridgetown and Dent. I graduated from Oak Hills High School. I work at Brogan and Foltz Firestone as a general service tech. I began with no knowledge of Catholicism. I am wanting to increase my relationship with the Lord and myself. I am very excited about this journey. My whole life there have been challenges that were very hard to overcome. Something has always felt lost in me or my heart has felt empty. I hope that the Lord heals it.
Khloe Brown
RCIA Candidate

My name is Khloe Brown, a candidate going through RCIA. Some Hobbies that interest me are programming, web design, graphic design, comic books, trading cards, teaching, and mentoring. I moved every year, so I went to a total of 7 different schools plus college. I grew up in and around Price Hill. I graduated from Colerain High School and then attended Cincinnati State. I aspire to run my own multimedia design studio with my own team. I grew up in a Catholic family and was surrounded by many religious influences.  My grandmother taught RCIA and my great Aunt was a sister at a church in Beechmont. I've also attended many Catholic weddings and funerals. I want to continue to strengthen and embrace Catholicism in my life.
Rhoda Levine
RCIA Candidate


My name is Rhoda Levine, a candidate going through RCIA. My hobbies include volunteering and helping others. I grew up in Louisville Kentucky. I went to Shawnee High and UK. I am retired, but I was a radiology technologist. My reasons for joining RCIA is possibly becoming a Catholic. I look forward to going where the Lord is leading me. I look forward to being closer to the Lord.