Welcome from the Principal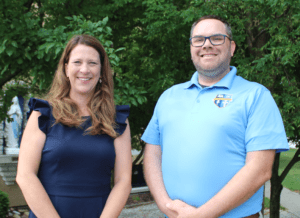 Welcome to St. Ignatius of Loyola School and thank you for your interest! My name is Angie Heisel, and I am privileged to serve as the principal of St. Ignatius, along with Matt Meyer, assistant principal. I firmly believe in our school mission of educating the whole child, while keeping God at the center of everything we do. 
With a tradition of outstanding Catholic education for over 75 years, St. Ignatius School prepares students to attain their spiritual, academic, social-emotional, physical and artistic potential to make the world a better place. With a focus on whole child development and adapting to the changing world, we value and promote collaboration with one another, creative problem solving and technology integration. 
Inclusive education is practiced in our building, as expressed in our core values. We welcome the diverse talents, abilities, and backgrounds of all children. We are so blessed to have highly trained staff and specialists who are dedicated to supporting and challenging children to attain their fullest potential. This comprehensive approach provides an environment where each student's unique abilities are both embraced and challenged, building the foundation for greater self-worth and life-long happiness.
While St. Ignatius is a large school of over 1,000 students, we are also a loving family where students, staff, parents, grandparents, alums, and many others work together to promote the mission of the school: Educating each student by helping them develop their faith and by teaching academic skills that last a lifetime. Our staff, students, and community, learn and practice the faith in their daily interactions, while giving so generously of their time and talents. We are so grateful for them and would not be as successful as we are without their support. 
I invite you to review our web site and take some time to get to know St. Ignatius School. I look forward to welcoming you into our family!
Yours in Christ,
Angie Heisel