Saint Ignatius Welcomes new Music, Band, and Choir teacher
Matt Holt is a passionate music educator with an eclectic background, who is excited to be joining the St. Ignatius family.
Hailing from Chicago, Matt started piano lessons at a young age, but it was in high school, where he played french horn and bass in the school's bands and orchestras, that his passion for music truly flowered.  Brought to Cincinnati by a scholarship at UC's College-Conservatory of Music, Matt originally focused on performance, and received his bachelor of music in 2007.  He then spent ten years as a professional bassist around Cincinnati, playing in local orchestras, jazz clubs, and rock bands.
However, two chance interim opportunities, first as a band director at Loveland High School, then as an orchestra director for Hamilton City Schools, ignited a passion for education.  Matt subsequently moved his focus to education, and completed coursework at The Ohio State University to receive his Ohio teaching license.  His teaching resumé also includes directing ensembles for the CCM Preparatory Department, teaching music lessons and class piano at Cincinnati Music Academy, and working as an instructor and showrunner for School of Rock Cincinnati.
When he is not playing or teaching music, Matt enjoys doing DIY construction projects on his house in the Kennedy Heights neighborhood of Cincinnati, spending time with his wife Abigail and son Felix, and walking the family dogs.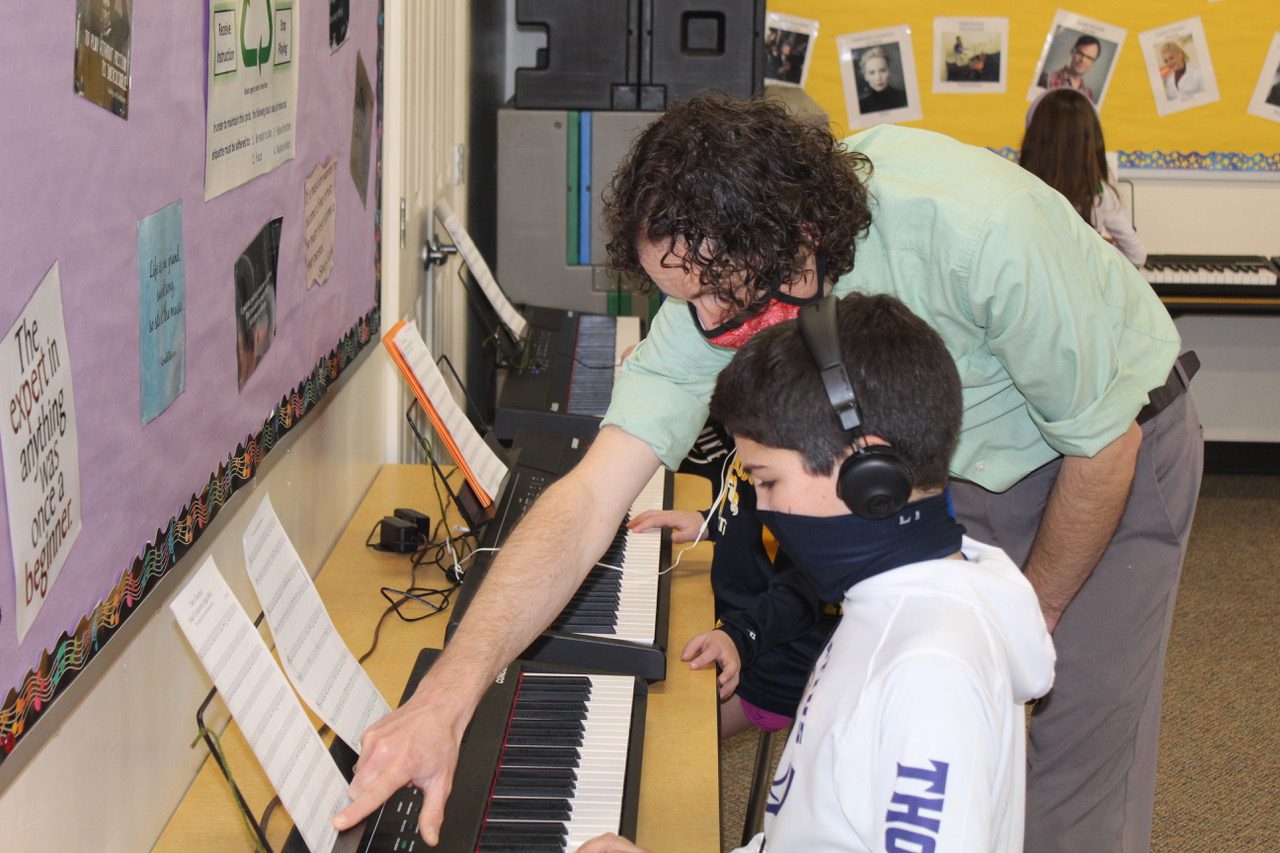 The Arts and COVID-19: School Opens New Keyboard Lab
In addition to welcoming a new staff member this year to lead the music, band, and choir programs, there have been some major adjustments to the music curriculum this year because of COVID-19.  The school has built a keyboard lab so that students can learn basic piano skills and continue studying music with an instrument that does not require them to be mask-less. Says Mr. Matt Holt, "I'm particularly excited for when we are past COVID restrictions, and can fully integrate the lab into a regular music curriculum," he adds. "We have had to move away from doing wind instruments and most singing in class, although we are still having socially-distant band rehearsals in the gym."
Things are a little restricted now because of COVID-19, but normally for the performing arts program at Saint Ignatius includes choir, theater, and band. The only activity happening currently is band. Mr. Holt says, "I'm looking forward to when things are a little more normal and we can bring everything back."
Since every Saint Ignatius student participates in music, band, or choir, the arts are automatically an integrated part of the curriculum. Says Mr. Holt, "I've had teachers show me how they are using songs to teach math, and I try to use music to help students learn about other topics as well; giving them the history of a song, for instance, or explaining the culture a piece of music represents."
Mr. Holt continues, "While study of the arts can enhance whole-child development in a lot of different ways, I think the two most important are things that seem almost contradictory at first: learning mental focus and discipline, and open-mindedness and creativity.  Art combines and requires those two things in a way that I don't think anything else does."
The arts are incredibly important to a student's development, similar to the way sports are.  While very few people who do sports in school have a career in that area, the discipline and learning skills you develop on the court or field are incredibly important later in life.  The same thing is true of music and the arts. Says Mr. Holt, " I can't tell you how many doctors, lawyers, and engineers I know who are also musicians, dancers, or visual artists.  Art lights up and connects parts of your brain that nothing else does, and those that don't get exposure to them are really missing out."
When asked what makes the arts program special at Saint Ignatius, Mr. Holt responded, "There are a number of unique things about the Saint Ignatius arts program, but I think the thing that stands out the most to me is the level of investment and support from the community and the administration."