Innovation and Design Program
One of the greatest assets of humans is the ability to creatively problem-solve and innovate. The Saint Ignatius Design and Innovation Program is focused on creating innovative thinkers using the design thinking process. Students will learn and develop the 21st-century skills of critical thinking, collaboration, creativity, communication, along with local and global citizenship.
Using 21st-century skills, robotics, technology, STEM activities and problem-solving, our students will provide solutions to real-life issues building their grit and resiliency.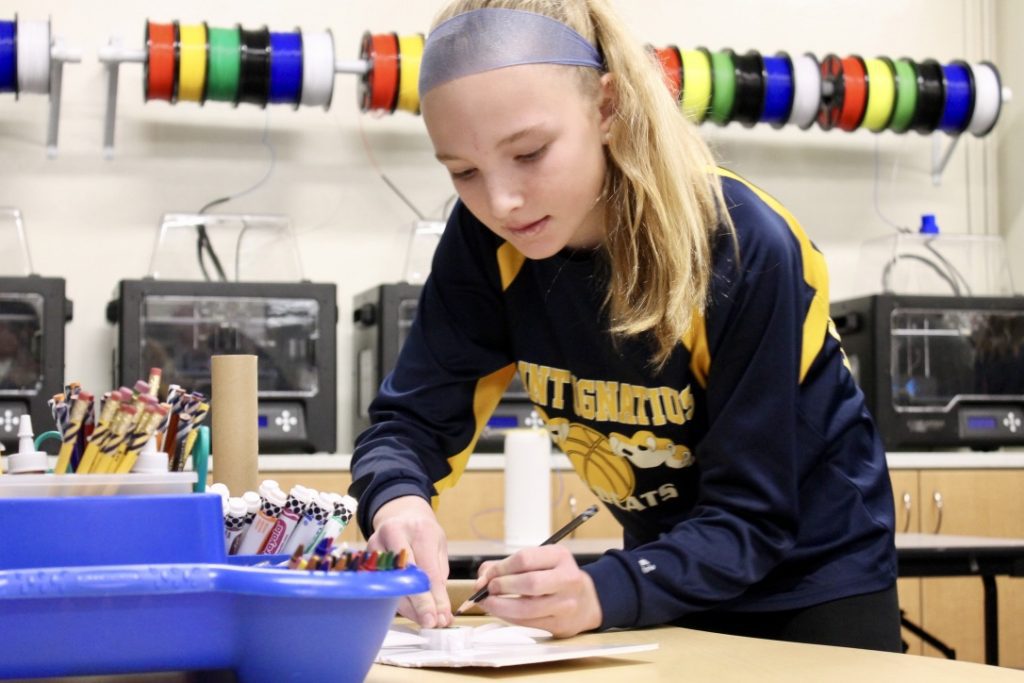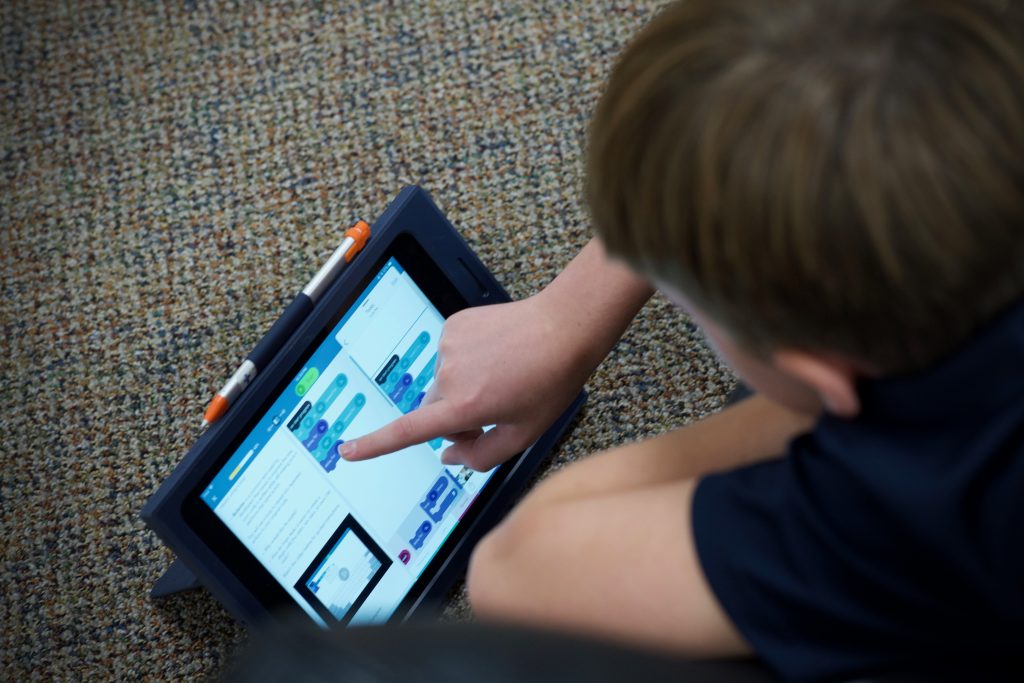 Kindergarten
Many animals are endangered due to habitat loss. How might we design a new home for an endangered animal, using appropriate materials that mimic its natural habitat?
First Grade
Pollinators are vital to our ecosystem, yet are endangered due to habitat loss and pesticide use. How might we use recycled items to design a garden that will attract pollinators and give them a safe habitat and a steady food supply?
Second Grade
Food shortages are occurring in our local, state, national, and global communities. How might we use the methods of hydroponic & aquaponic farming to design an indoor food garden using little or no soil?
Third Grade
Borneo, a large island near southeast Asia, is home to an ancient rainforest that is rich in biodiversity. However, human encroachment has had a negative impact on the wildlife and many have become a nuisance to the humans who have made Borneo their home. How might we design a device that deters monkeys from scavenging for food from human sources?
Fourth Grade
Globally, amusement parks are competing for bigger and faster roller coasters. Student teams will research roller coaster designs, gravitational effects, materials effect on ride, health concerns, and the physics involved. Teams will create a new roller coaster.
Fifth Grade
Alternative energy sources are being developed around the world. One promising source is wind energy, harnessed through the use of wind turbines. How might we improve the design of the blades in order to maximize output, be visually appealing, and protect wildlife?
Sixth Grade
It is estimated that 700 million people worldwide could be displaced by intense water scarcity by the year 2030. Students will identify a country with low access to potable water and design a low-cost portable water purification device using sustainable materials.
Seventh Grade
Climate change has had negative impacts on the environment, weather patterns, wildlife, and even on human life. There are many ways human actions have contributed to the dramatic changes in our world. Using the United Nations Sustainable Development Goals, students will identify an effect of climate change that affects our world and answer the following question: "How might we design an innovative, sustainable solution to this issue?"
Eighth Grade
The world is in great need of innovative thinkers. We are surrounded by opportunities to design solutions to everyday problems. Through biomimicry, or the study of nature's adaptations, we can gain insight into solving human issues. Using the United Nations Sustainable Development Goals, students will identify a problem our world faces today and answer the following question: "How might we use biomimicry to create an innovative solution?"