iLab Opens at St. Ignatius School
On Monday, November 25, from 4 p.m. to 8 p.m., St. Ignatius of Loyola School will host an iLab Open House to celebrate the opening of the new state-of-the-art Innovation and Design Lab (iLab), located adjacent to the school library. One of the most ambitious technology projects in the Archdiocese, the iLab took over three months to complete. The iLab will facilitate student education in design thinking, and also provide opportunities for hands-on learning experiences.
School Introduces Innovation and Design Program
Says St. Ignatius School Principal Kevin Vance, "One of the greatest assets of humans is the ability to creatively problem solve and innovate. This iLab, which provides 600 square feet for student innovation and design, will facilitate just the sort of collaboration and interaction that provides active learning for our students." 
"We can teach kids the design thinking process and have them practice the 21st century skills we know they need: critical thinking, collaboration, creativity, and communication, along with local and global citizenship. All these skills help them better engage in the world and with other people," Vance says. "Through the Innovation and Design program, our students will provide solutions to real life issues, building their grit and resiliency."
The initiative is designed to introduce students to the innovative five-step design thinking process: 
empathize–Learn about the audience for whom you are designing 
define–Construct a point of view that is based on user needs and insights
ideate–Brainstorm and come up with creative solutions 
prototype–Build a representation of one or more of your ideas to show to others
test –Return to your original user group and test your ideas for feedback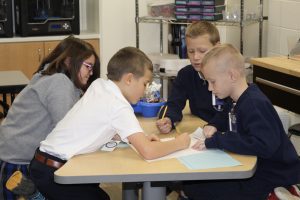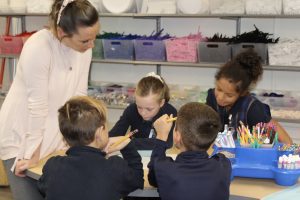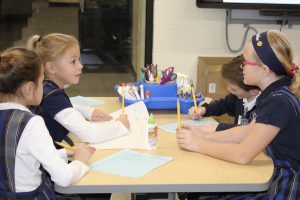 "The really good thing about the new iLab and our integration of STEAM (Science, Technology, Engineering, Art and Math) into the curriculum is the collaborative aspect that allows students of differing abilities and interests to get involved in the creation of the final product," says Technology Director Bill Magness. Additionally, the program introduces students to robotics, coding, global citizenship and digital literacy concepts. 
Director of Innovation and Design, Megan Mears, spent the summer training teachers on Tech Tuesdays. "The teachers enjoyed using our new tools and immediately began brainstorming ways to incorporate them into the existing curriculum," Mrs. Mears says. The training was designed to introduce teachers to learning tools in the iLab and help them understand the design thinking process. 
Mrs. Mears continues, "This is an incredible opportunity for students to use higher-order thinking skills as they collaborate to problem-solve real issues we face in the world today. I've already witnessed an immense increase in student engagement and excitement as we begin to implement the design process school-wide."
The Innovation and Design Lab is one of the most advanced makerspace facilities in the Cincinnati area. The iLab was made possible by generous private donations in partnership with the school. To arrange a tour, please contact alumni@saintischool.org.