2019-2020 School Registration
Priority Registration is now open!
Tuition for 2019-2020 as determined by the Parish Finance Committee is as follows.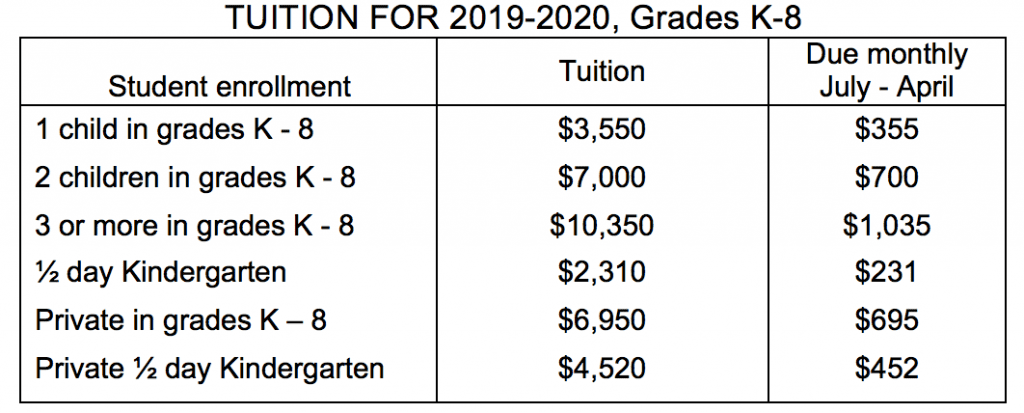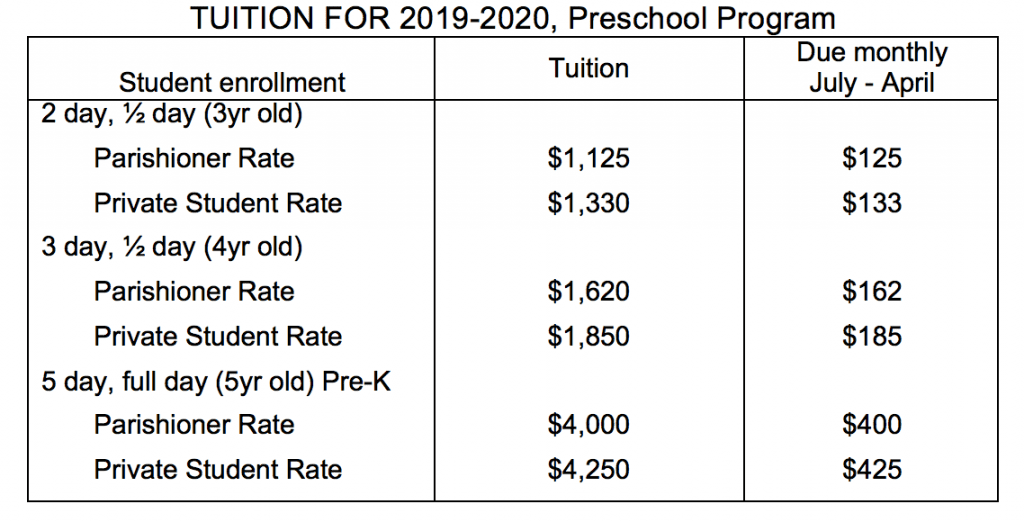 Open House
The school is hosting an Open House on Sunday, January 27 from 1:00-2:30pm to kick-off Catholic Schools Week. Come take a tour, meet the staff, and peruse the student activity book in the cafeteria. More information on our NEW Preschool program will be available.
Computers will be available in the library during the Open House for registration and staff will be available to assist you.
Preschool Information
Students must be age 3, 4 or 5 on the first day of school.
All preschool students must be fully potty-trained.
Students entering Kindergarten must be 5 years old by September 30, 2019.
Ready to register?
Children will be enrolled in the order of priority listed below. Priority within a category will be determined by the length of documented history of continuous participation in the life of the parish.
A separate registration form must be completed for each child.
You will need your student's ID number and parish envelope number at the time of registration. 
Please use the School Registration Form link to begin the registration process.
Payment Information
To complete the registration process, each family must pay a school registration fee of $155
.
 The registration fee is per family.
After you have submitted registration online for all of your children, please visit Registration Fee Payment link to pay your family registration fee. This is a per-family fee, so it is only necessary to do this ONE time.  
The payment form will ask how many students you are registering, their names and their grade levels. This is needed for billing, since half-day kindergarten and preschool are billed at a rate different than regular school tuition. Be sure to select
1
on the dropdown for
family
as this will calculate your registration fee. Select the number of students who will be attending St. Ignatius on the
student
dropdown.
Admission Priority Categories
Please note that applications are processed according to your admission priority category. For more information, please contact the school office. Children not registered during their appropriate registration period will lose their respective priority. The pastor and principal may make exceptions to this policy.

Category 1 (Jan. 11-26):  
All children currently enrolled at St. Ignatius School (and their siblings) who are current on tuition and whose participation in the life of the parish can be documented.
Category 2 (Jan. 27-Feb. 9): 
All children of St. Ignatius parishioners NOT currently enrolled at St. Ignatius School whose participation in the life of the parish can be documented.
Category 3 (Feb. 10-23): 
Children of St. Ignatius Parishioners who do not participate in the  life of the parish. Full Cost (non-subsidized) tuition will be charged.
Category 4 (Beginning Feb. 24):  
Non-parishioners. Children in these families will be admitted i
f class size is under 22 in grades K-3 and under 28 in grades 4-8.
Full Cost (non-subsidized) tuition will be charged.