Congratulations, Mrs. Shoemaker!
St. Ignatius of Loyola School teacher achieves National Board Certification
Ann Shoemaker, a 7th grade teacher at St. Ignatius of Loyola School, was recently notified that she had successfully completed the challenging process of earning National Board Certified Teacher (NBCT) status for her work as an intervention specialist. Vice principal Laura Sieve said Mrs. Shoemaker joins the following faculty members who previously earned the profession's highest mark of achievement: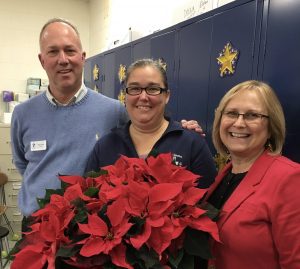 Vickie Geckle
Megan Mears
Carolyn Milheim
Ann Shoemaker (2018)
Beth Siemer
Laura Sieve
Mrs. Shoemaker's accomplishment uniquely reflects one of the Core Values of the school: Continuous Improvement. St. Ignatius School deliberately and intentionally works to continuously improve. Already a National Blue Ribbon School of Excellence and a recognized leader in academics and inclusion, the faculty is constantly planning for the future and building on its current success. Both the faculty and the students are constantly reaching toward their personal best.
Once a teacher begins the certification process, they have five years to complete it. Mrs. Shoemaker finished in 18 months. "[Earning this achievement feels] surreal, like it hasn't sunk in yet that I did this, that I went through all the work. I was anticipating that I would have to take another component again, so mentally I was prepared more for having to redo something, not for getting the 'congratulations, you passed!'" she said. "In my mind I was thinking I would have to redo [components]. You always hear that 'it takes a while, and it's hard, and you have to do this.' I was prepared for that."
According to the National Board for Professional Teaching Standards, "National Board Certification was designed to develop, retain and recognize accomplished teachers and to generate ongoing improvement in schools nationwide. It is the most respected professional certification available in K-12 education." Officials say that the process to get certified requires the teacher to demonstrate evidence of the positive effect they have on student learning in alignment with the five core principles:
Commitment to students and their learning

Knowledge of the subjects they teach and how to teach these subjects to students

Responsibility for managing and monitoring student learning

Systematic approaches regarding teaching practices and continuous improvement as a teacher

Membership in professional learning communities
Timing is everything
"When I was [in the public school system] after I finished my Master's about 10 years ago, I heard about National Board Certification. I started doing some research into it and I thought, 'this sounds like something I'd want to do' and I was talked out of it, that it was a lot of hard work," Mrs. Shoemaker recalls. "After I started working [at St. Ignatius, following] my first year, my license renewed and Mrs. Sieve asked if I had ever heard about National Boards? It was that gentle nudge I needed. I looked back into in again and decided I'm going to do it this time!"
"I know personally how much work it is to achieve National Board Certification. It forces you to examine your teaching closely and determine why you do certain things and what is important for your students," reflects St. Ignatius School vice principal Laura Sieve. "It certainly made me a better teacher. National Board for Professional Teaching Standards Certification has always been encouraged here and administration has been very supportive."
Shoemaker has been teaching at St. Ignatius School for nearly five years. She has taught middle school for her entire professional career, which previously included 10 years in a public school. In addition to teaching, she also serves on the I-Walk stewardship committee and co-chairs the social committee at St. Ignatius School.
---